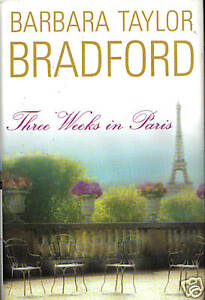 Three Weeks in Paris
by Barbara Taylor Bradford
Description per
Shelfari
Legendary storyteller Barbara Taylor Bradford presents a spellbinding story of four women transformed by old memories and surprising revelations when they meet again at a school reunion in Paris. As students at the prestigious Anya Sedgwick School of Decorative Arts in Paris, Alexandra Gordon, Kay Lenox, Jessica Pierce, and Maria Franconi share the challenges and excitement of developing their various artistic talents to the fullest under Sedgwick's caring and demanding guidance. Once best friends, they part enemies, and after graduation go their separate ways, pursuing careers and establishing lives in different corners of the world. Alexandra, a set designer, becomes a leading figure in New York's theater world. Kay, who marries and moves to Scotland, designs a successful line of clothing. Jessica, an interior designer, makes her home in California, while Maria returns to her native Italy, where she continues to work in her family's textile business. For each of them, the arrival of an invitation to Paris to celebrate Anya Sedgwick's eighty-fifth birthday stirs up complicated feelings: Nostalgic memories are colored by poignant regrets, and the reluctance to revisit their own pasts mixes with curiosity about their former friends. It is ultimately their desire to deal with unfinished business that convinces all of them to attend the party. During three eventful weeks in Paris, they visit their old haunts, rekindle ties, and awaken in one another the sense of wonder, adventure, and possibilities they had shared so long ago. Barbara Taylor Bradford has long been recognized as one of today's finest chroniclers of women's lives. From her blockbuster debut novel, A Woman of Substance , to her most recent bestseller, The Triumph of Katie Byrne , her books have sold more than 61 million copies worldwide. Three Weeks in Paris is vintage Bradford, filled with the emotional power and captivating plot twists her readers cherish.
Summary per Goodreads
Four young women attending the prestigious Anya Sedgwick School of Decorative Arts in Paris share the time of their lives, but they part bitterly. Seven years later, they return to celebrate the 85th birthday of the school's founder and spend three unforgettable weeks learning about each others' lives--their loves, marriages, betrayals, and triumphs--while rediscovering the City of Light and each other.
My feelings:
I enjoyed this book a great deal. Initially took me a bit to get into ( blamed in part to my being in a Scottish Highlander mode) and I got a little muddled in Bradford's descriptive nature, but in the end, saw that it fit in with the characters and core nature of the story. One needs to see the city and country side, envision the colors and textures... Not pivotal to the plot but a nice accoutrement if you enjoy those types of details. There were moments of sadness and those still follow me after my reading was done... but overall I had a feeling of completion upon finishing this book, which I need in order to enjoy a stand alone novel/book/writing.
I absolutely hate when a book leaves me guessing with no epilogue or inclination of a sequel. I feel as though a relationship has ended with no sense of closure... and we girls sure hate that ..
I gave this book 3 of 5 stars and would recommend.